I'm Starting to Understand, Maybe Even Respect Snapchat
That's right, I'm starting to respect Snapchat and their plans for world domination. As I wrote about earlier, the way we get our news has to change or those responsible for reporting on the news will be left on the sidelines. The current generation is showing signs of becoming much more aware of the world around us than previous generations and it has everything to do with how they get their news.
Two stories in the news just this last week (that I found in my emails) tell of two fascinating aspects of Snapchat's news delivery strategy.
First, NeimanLab reported on how Snapchat wants to slip a little news into teens' social smartphone time. With the goal of being more educational than news delivery, Snapchat leverages the millions of users they have around the world to tells stories from their users' point of view. Users who are in middle of a presidential campaign can show the rally from the middle of the rally – where they are, what they are doing.
Even internationally, Snapchat can cover news using a "geofence" that locates their users and broadcasted directly from them.
While media outlets from around the world covered the Hajj, especially after the deadly stampede last week, Snapchat could take its viewers into places, such as the mosques, that traditional TV crew couldn't reach. (The Hajj Snapchat Live Story was compiled before the stampede happened.)
Their power of their users is in the numbers and locations :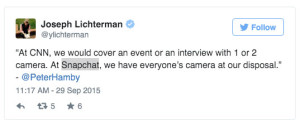 So you think, how many teens really want to learn about what's going on in Hajj? Maybe that's a stretch, but how about the Teen Vogue Young Hollywood party and the Vanity Fair Oscar Party?
That's right, Conde Nast struck a deal to post video on Snapchat from those events,
Anyone who opens Snapchat around the time of one of Conde Nast's events will be offered video in the platform's Live Stories format, which curates footage from various users at a given location. Snapchat says it has 100 million unique daily active users and that 20 million people view a Live Story each day. Conde Nast's Live Stories will be available for 24 hours each.
It's no surprise then that brands and publishers alike are flocking to the opportunities that Snapchat offers. Delivering an audience that is glued to their phones, and love it even more when they can share what they're seeing is the holy grail of an engaged audience.
And, here's the part I like – you don't really have to be a teen to "get it." Just ask the Terminator, or whoever is managing The Arnold's social media channels.
This generation stands a chance of saving "the news."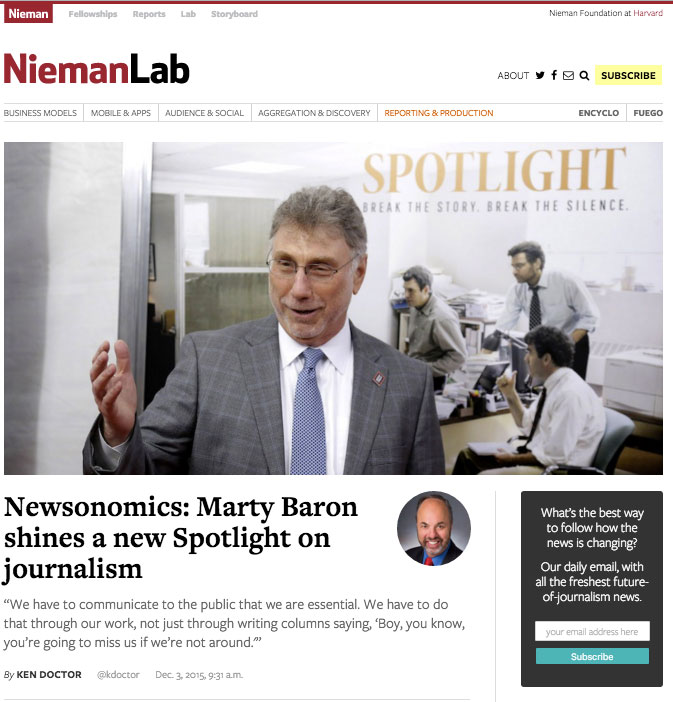 Newspapers are still fighting for respect in the digital age of news, but picking nits - regarding the way some people in the news and digital agency worlds refer to content - is going in the wrong direction. Marty Baron, the well-respected Washington Post editor was...
read more