News is Dead, Long Live the News
This isn't your Dad's news anymore
There have never been more ways to get your news than there is today. Each generation has seen its "new media moment" from the newspapers, to radio, and then live television, but in the last 20 years we have jumped light years ahead of the previous generations in the ways in which we can get our news fix.
In the early days of the Internet, most traditional news operations created websites that let anyone read their news. Soon after, some publishers (newspapers, mostly) complained other sites like Huffington Post and local bloggers would aggregate (steal) their content use it to boost their website traffic. The answer to that issue, by some news sites, was to require a subscription to the site in order to read the content they produce. That is a hotly contested strategy that is still playing out.
Then, just when you thought the battle would be just between news publishers, social media took off and offered yet another way for readers to receive news feeds. Platforms like Facebook and Twitter suddenly had "the eyeballs" and they could gather all the news you wanted from many different sources.
Again, tradition publishers (newspapers, mostly) complained their content was being pilfered and that their audience was being lost. While they were still locking down some of their content for just subscribers, they started to see that they had to look at other ways of reaching an audience.
Recently Facebook offered a way for publishers to reach the coveted Facebook audience in a more publishing-friendly way. With Instant Articles publishers can better control what they publish directly in the newsfeed and make money doing it. It's making a lot of noise in the industry bringing most famously the New York Times onboard.
Apple made news yesterday with their upcoming Apple News app, which looks to be a combination of Google News and the Facebook Instant Articles.
But how you get your news isn't what the publishers should be watching now.
Years have gone by and most newspapers really haven't made any progress toward reaching the next generation's audience. Some say that the younger generation just doesn't care about current events and news, but I don't agree. There are now not just a new ways of getting the news, there are new sources of news.
Getting a lot of attention recently for their coverage of the Pennsylvania Amtrak crash, "local news startup" billypenn.com shows how a small team of journalists can beat the big publishers at their own game. They also may show a glimpse into what that next generation of the news audience is looking for. Digiday does a great job of breaking down billypenn's coverage and the way their audience followed the news. It's a great read.
And if you still think Snapchat is just a cute photo-sharing app for the kids, it's time to look again. They are adding content experts like Sean Mills (previously president of NowThis, CEO of Nerve.com and president of the satirical news site The Onion) to be Head of Original Content. They have also hired political reporter Peter Hamby from CNN, and most interestingly now looking to hire "content analysts" to help them cover the 2016 presidential election and other major news events.
The way you get your news isn't the only story now, it's who will be filling those screens with the news that will be news.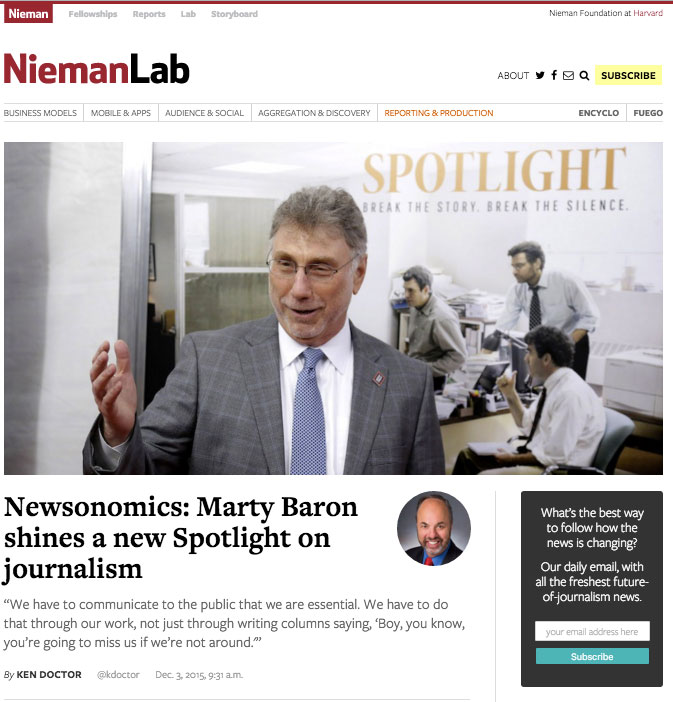 Newspapers are still fighting for respect in the digital age of news, but picking nits - regarding the way some people in the news and digital agency worlds refer to content - is going in the wrong direction. Marty Baron, the well-respected Washington Post editor was...
read more